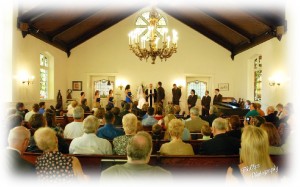 Photo used by permission of Phillips Photography.
Our beautiful, historic Sanctuary is available for weddings and ceremonies of union throughout the year. The Sanctuary comfortably seats 125 people, and the entire main floor of our building is accessible for persons with disabilities. There is always plenty of parking near the church.
We can also provide space for your reception in our Fellowship Hall.   Kitchen facilities are also available. Please contact our Administrator, Becky Green, for details, dates, and prices.
Our minister, Rev. Dawn Fortune, officiates at all weddings and unions held in our Sanctuary.
They will also officiate at other sites around the area.
They may be reached by leaving a message at 618-462-2462.